Greenlit
Hurrah ! BOMB has been Greenlit, meaning that we are able to release the game on Steam. Here's our stats, it could be an interest to our fellow developers still waiting for their validation.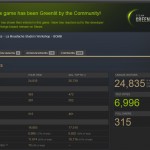 We're currently rethinking our roadmap in order to distribute asap after having integrated Steamworks (Valve tools) to organize, among other things, multiplayer games.
So we have a few options:
Release the Mk II as it is, as soon as possible in early access then integrate Steamworks right after.
Release the Mk II with Steamworks integration in a while, still in early access.
Release the Mk III  with Steamworks , but as a completed game, Mk IV being only about Mac and Linux versions and Mk V about modding tools.
Which option is the most suitable to us? The third seems to be the best, but we still need to think about it.
Mark III
We're currently producing the Mark III, which contains a new environment, 6 missions, a new playable aircraft and mostly, as we've briefly shown, the airship hooking system.
This feature was present in the original game concept, then it has been canceled the same time airships were. Then someday in Greenlight's comments somebody asked if the game will feature airships. We've decided to put them back! So a week ago, as we needed an aircraft-carrier airship, I've looked at some photos of USS Akron, the real US Navy aircraft-carrier airship: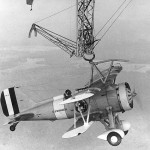 Then I've reproduced the general setting (simpler, however!) of that system in the game, and in a few hours, everything was functional.
Which goes to show that coolest features aren't especially the most complicated to do.
This system is quite generic, every plane should be equipped with the hook.
The only limitation being that it must be placed ahead of the wings push point, or else their lift results in a pretty fatal couple. But the hook's shape and position can be set for each aircraft, so it's alright.
Pix&Tech event
The Pix&Tech event that will take place in Nîmes (south of France) on the 24th and 25th of May will have an indie developers dedicated stand. La Moustache will attend to it, this will be a great opportunity to show and discuss the game with the visitors.